Sentul Medical Centre has just acquired a top of the range new ultrasound machine called Samsung Medison V20 machine in addition to 2 other machines Medison 2000 and Siemens ultrasound machine acquired earlier.
Our diagnostic medical
professional Sonographer
operate ultrasonic imaging devices to produce diagnostic images, scans, videos, or 2D/3D/4D volumes of anatomy and diagnostic data
It offers a range of specialized facilities and health services for both men and women. It is a medical specialization that uses the techniques of imaging to diagnose and treat diseases that can be visualized in the human body.

A fetal ultrasound, or sonogram, is an imaging technique that uses high-frequency sound waves to produce images of a baby in the uterus.
Fetal ultrasound images can help your health care provider evaluate your baby's growth and development and determine how your pregnancy is progressing. A fetal ultrasound might also give you the chance to study your baby's profile months before delivery. In some cases, fetal ultrasound is used to evaluate possible problems or confirm a diagnosis.
Fetal ultrasound is often done during the first trimester to confirm and date the pregnancy and again during the second trimester — between 18 and 20 weeks — when anatomic details are visible. If your baby's health needs to be monitored more closely, ultrasounds might be repeated throughout the pregnancy.
2-D Fetal Ultrasound

4-D Fetal Ul

trasound






A 2-D fetal ultrasound can help your health care provider

evaluate your baby's growth and development

A 4-D fetal ultrasound can provide images of a developing baby with photo-quality details.
A breast ultrasound examination is not considered a screening test, but an investigative technology used for taking a closer look at areas of your breast that your doctor still has questions about after doing a mammogram and clinical breast exam. An ultrasound test may be useful if your mammogram shows an indistinct mass, or if a lump can be easily felt during a clinical breast exam.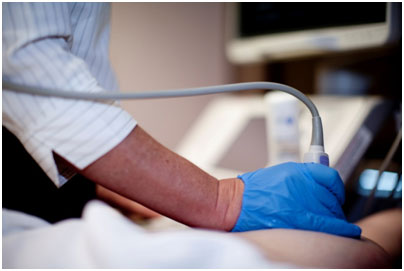 Annual Breast scanning is recommended for women aged 35 and more.
Abdominal & Pelvic Ultrasound
You may need to have an abdominal ultrasound to help your doctor identify problems with your liver, gallbladder, pancreas, spleen or kidneys. Pelvic ultrasound can help your doctor identify problems in your lower abdominal and pelvic organs, such as your bladder.
Ultrasound machine uses high frequency sound waves to produce images of the internal structures of the human body. The Abdomen and Pelvic Ultrasound scan is done to look at the internal organs, namely, the liver, spleen, gallbladder, pancreas, kidneys, bladder, the uterus and ovaries in a woman and the prostate in a man.